Reasons for Teamlove
Great teams grow together.
At Teamlove, we apply scientific know-how, years of experience and innovative features to improve a company's most vital asset: their teams. Our mission is to help organizations build, enhance and scale their teams.
A short introduction to teamlove
Teams are the core
of success.
Make your teams ready for the future with Teamlove. Find out how we support you in the development of your organization and get to know our most important features.
digital teambuilding
This is Teamlove.
We have created a tool that helps teams to give and get feedback efficiently, to solve problems, and implement solutions, so they can work better together.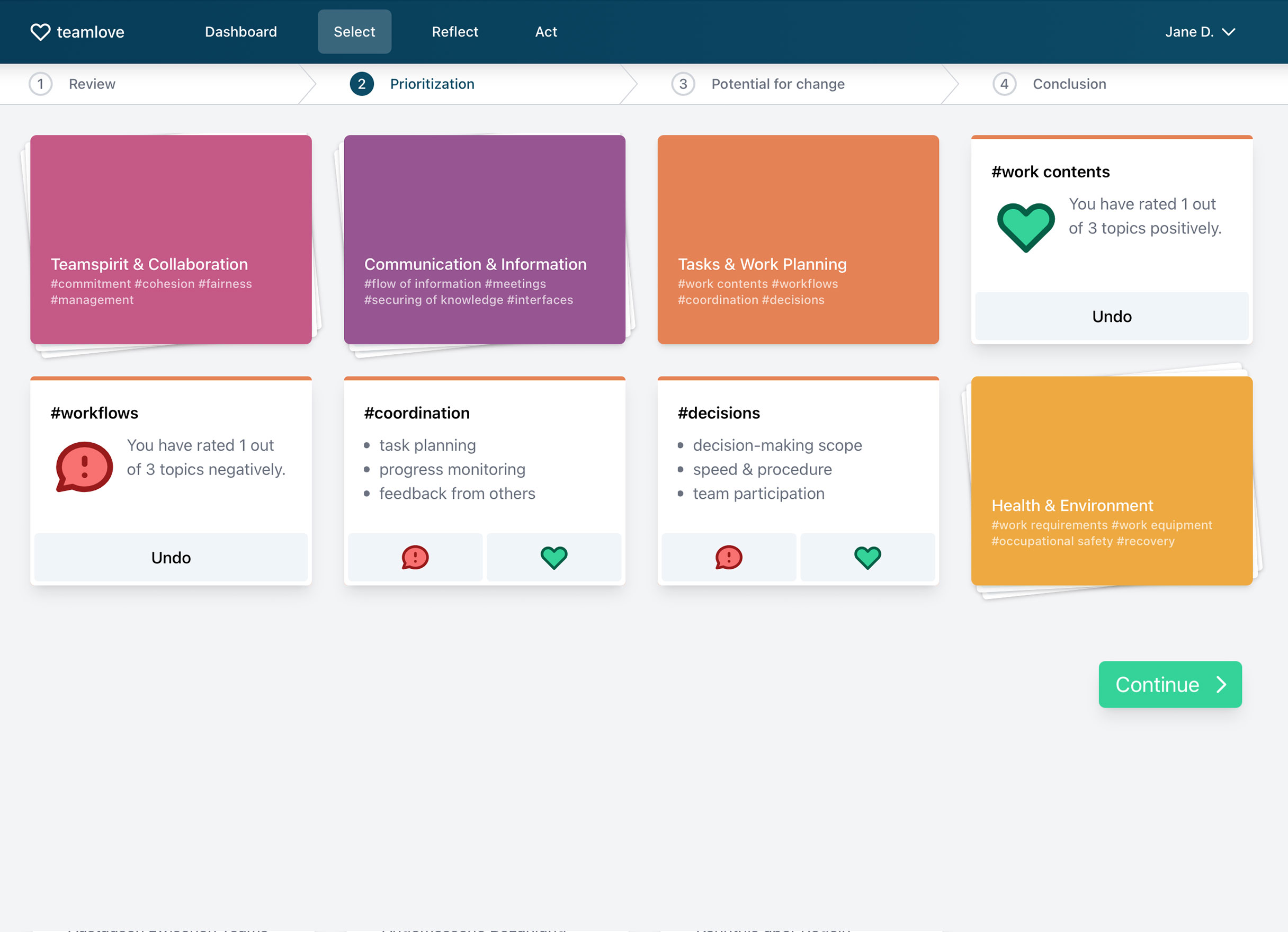 Is your business ready for peak performance?
Start using Teamlove today.
We are delivering a solution that will transform the way people work.
The key to successful collaboration is giving feedback that is timed just right and fits seamlessly into your work routine. With Teamlove, you can keep improving by responding to changes every 3-6 months.

Prof. Dr. Regina Kempen


Expert for organizational development
Switching between different tools can make it hard to keep feedback sustainable. That is why Teamlove integrates all steps of the feedback process into one topic card, so you can easily track and manage everything in one place.

Dr. Tammo Straatmann


Expert for Survey Feedback
Playful Feedback
Our innovative and playful interface allows team members to browse and select topics intuitively. For every topic that is flagged with a need for improvement, we collect statements on the underlying issues as well as suggestions on how to fix them.
Work on relevant issues
Each topic is selected in a two-step process, first by each individual team member, then again in a joint meeting. By only choosing 3 important topics for each action cycle, teams can focus their energy on what really matters, and their company receives streamlined and concise reports.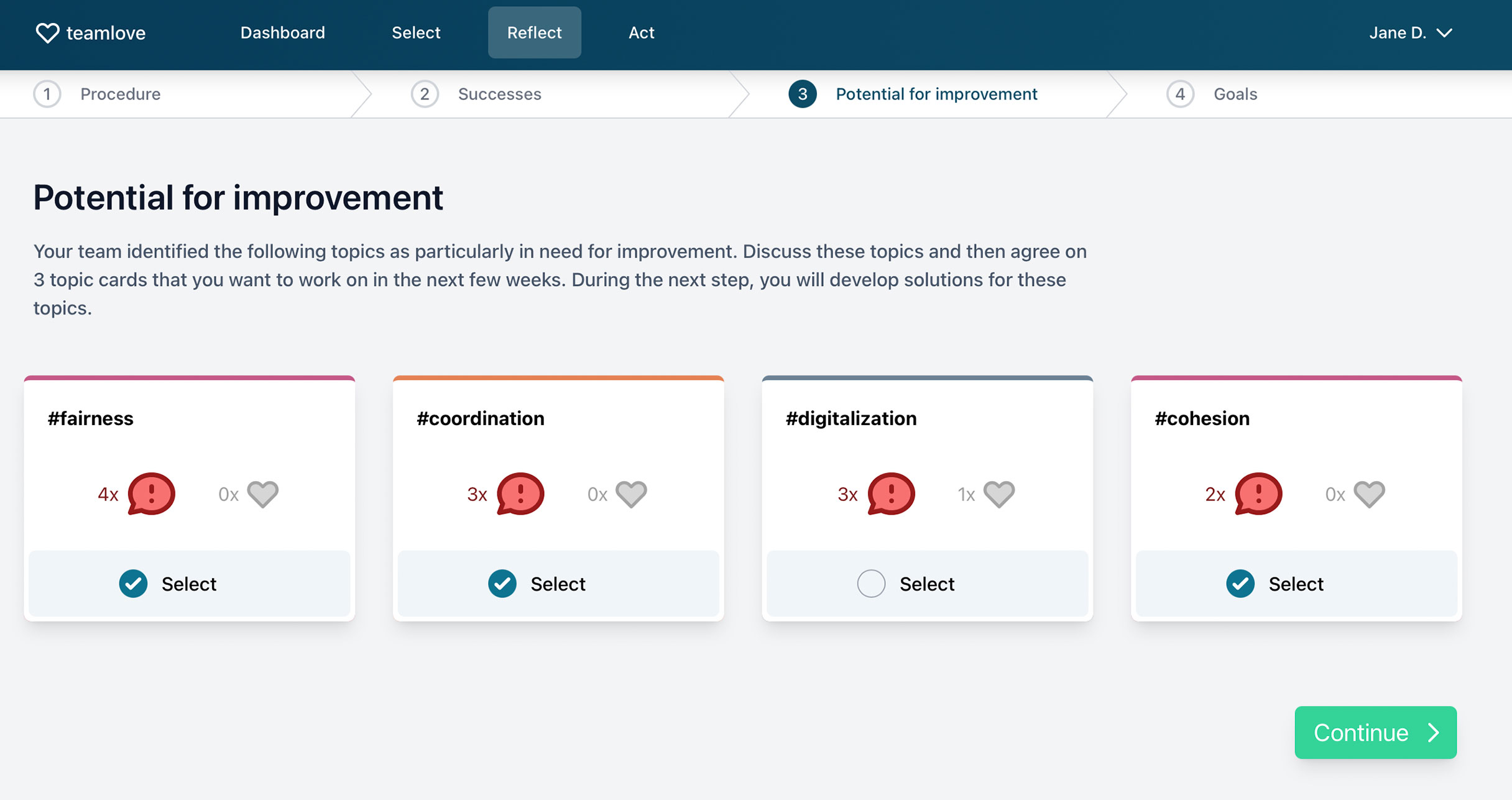 Feel supported at every step
We utilize AI to evaluate the given feedback and provide your team with suggestions regarding the concise formulation of core problems and solutions. Alternatively, there is always the option of inviting an experienced coach into your team, to help you with your process.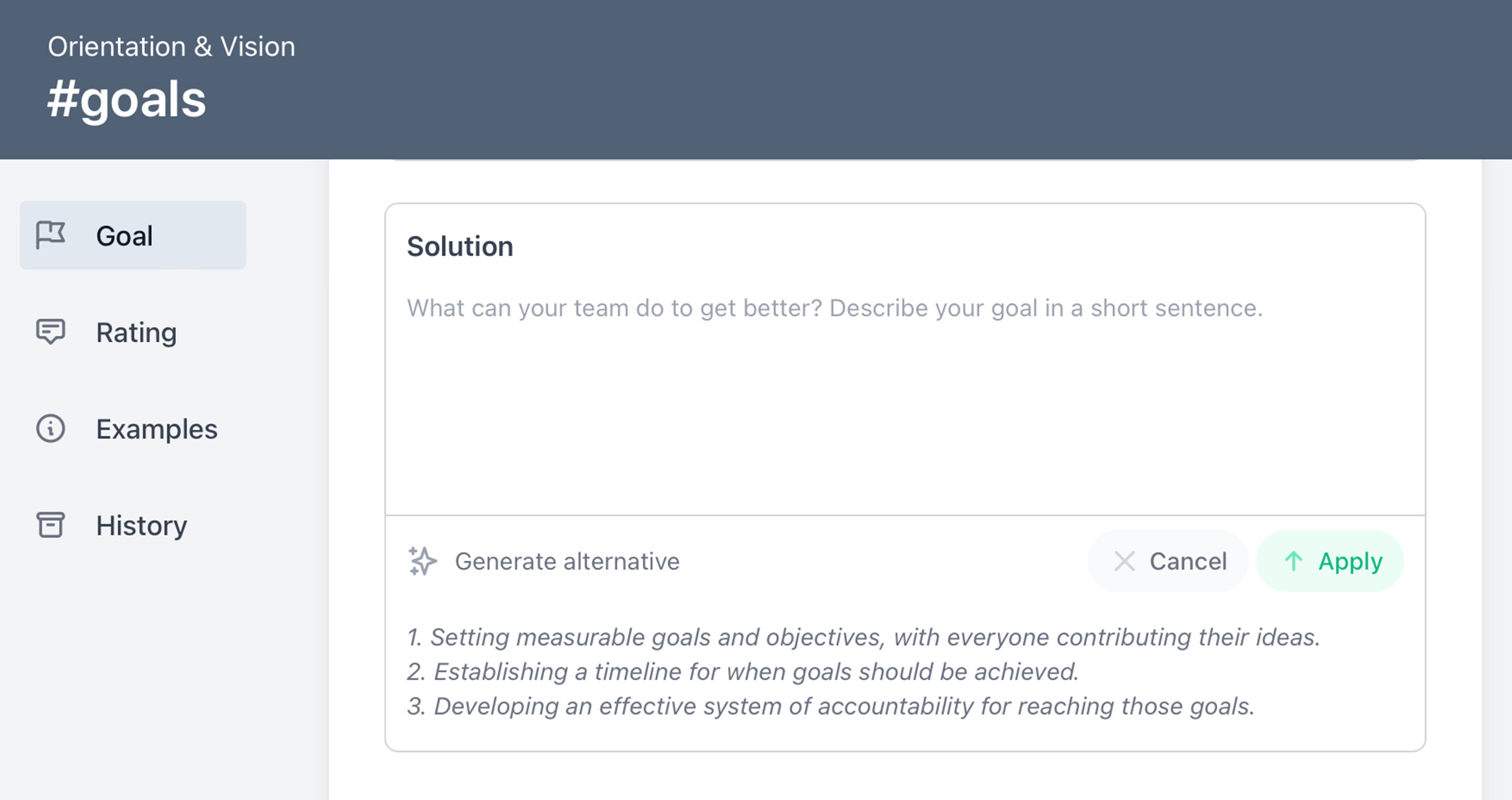 Stay on top of things
With a company account, management and human resources get an overview of the current situation within their teams. All data is conveniently processed and displayed in real time.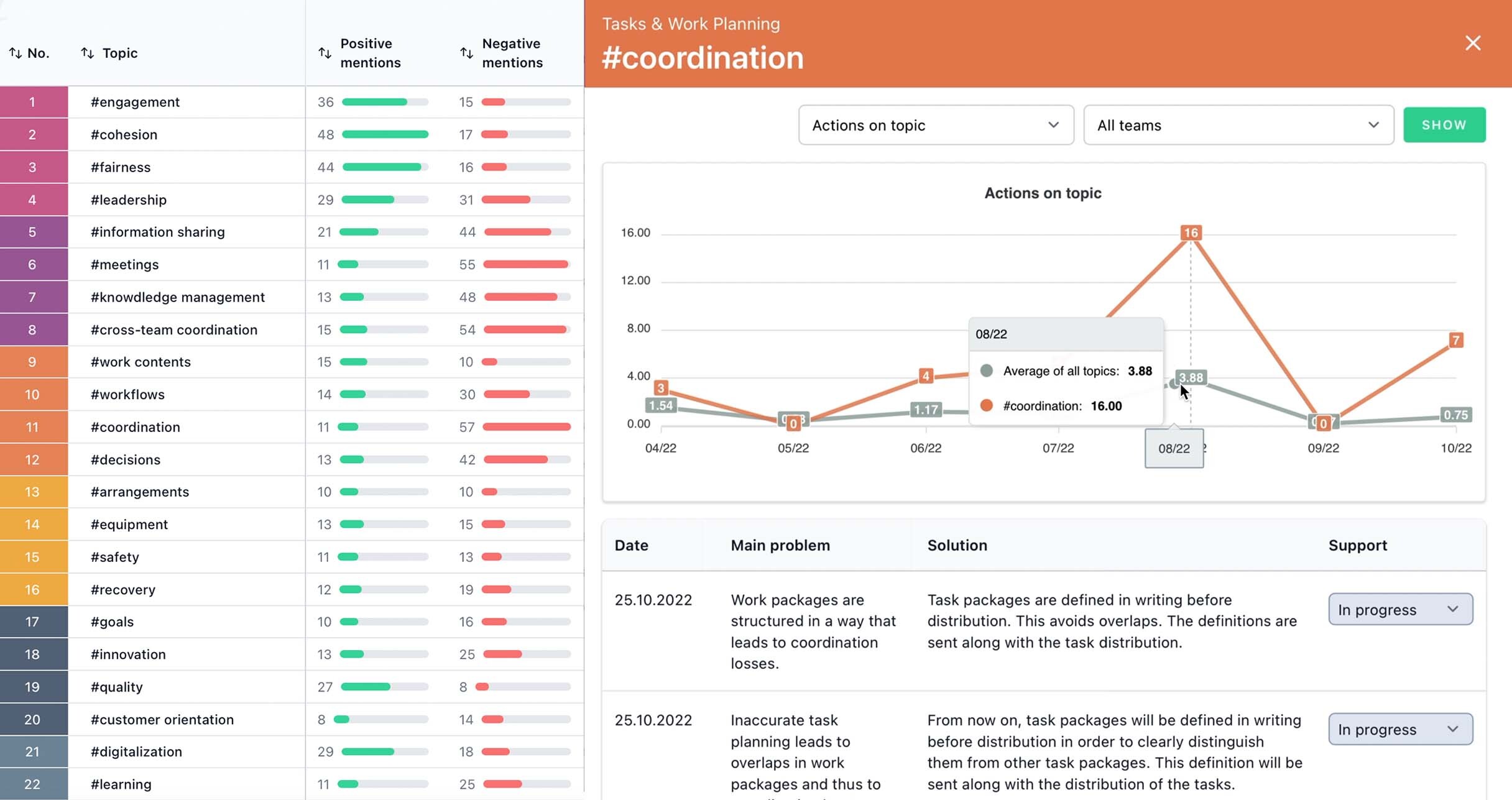 Frequently asked questions
Can not find the answer you are looking for? Reach out to our customer support.
Is Teamlove really free for teams?

Yes! We are committed to keeping Teamlove free for teams. We know how difficult it is to get budgets approved for work-related tools and apps and want to allow everyone to start using Teamlove easily. In fact, Teamlove is free for up to 10 teams, so small organizations that usually do not have a significant HR budget can equally profit from team development.

How often shoud I use Teamlove?

Teamlove was designed for three-month cycles. You will use Teamlove often at the start of a cycle and in between to document your process and to conduct a check-up meeting.

What kind of data can HR see from my team?

Teamlove was designed with anonymity in mind so you can focus on your team's development. We do share your team results with HR but not any individual topic ratings or comments. Those are really meant to move you and your teammates forward.

How can I test Teamlove?

Just open an account and give it a spin. It's free without any restrictions for individual teams. For organizations, it is free for the first 10 teams.
Start improving your team today.
Try the first 90-day action cycle with your team and experience the performance improvements yourself.